1. Only slightly less obnoxious than a brick phone.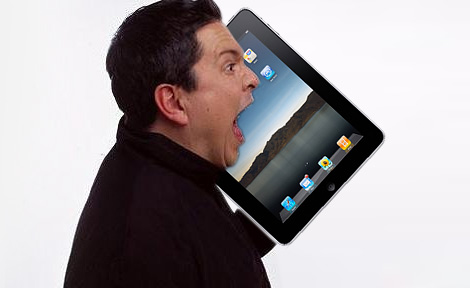 Remember mocking all your iPad having friends when you held said tablet to face and asked "Can you hear me now?" Well, now the joke is on all of us because Skype has come to the iPad App Store. Now you can video chat with your friends on the service, or I guess hold the thing against your head. It's not an iPad, it's a face shield.
2. Do not sit on happy fun ball
Rick Wood
Training camp is actually happening. That is all.
3. More Michael Kiwanuka
4. Reality TV killed MTV
Happy Birthday MTV. I miss you being aweseome. They never were awesome. They were just cool when you were younger. Young kids probably love MTV. I don't know. I'm not a young kid. Which makes me old. Relatively speaking. Here are the first 10 minutes of Music Television. By comparison, ESPN's first 10 minutes involved a rodeo and a world's strongest man rerun.
5. Just watch this 15 second video of a cat. 
Wow. Just. Wow.