Started the new music with a St Paddy's Day primer from The Chieftains. Their near fifty year career making Irish and Irish inspired music makes them perfect for that job. And on their latest Voice Of Ages is actually a celebration of those fifty years with a host of collaborations on the ten-track album and on the track I played, a lovely guest spot from The Carolina Choclate Drops. 
The Chieftains "Pretty Little Girl feat. Carolina Choclate Drops" Voice Of Ages
[audio=1]
Quetzal makes their return to Sound Travels with a new one from their latest album, Imaginaries. There's a lot to like about this East L.A. band and their pan-Latin sound. The fact that they perform in both English and Spanish makes it easier for the casual listener to appreciate what's goin on with their music, but it's their energy and sonic dynamism that lends the real charm. Though there are a few duds on the disk, Imaginaries is nevertheless pretty solid and the title track is free on iTunes, get it while it lasts...
Quetzal "Tragafuegos (Fire Breathers)" Imaginaries
[audio=2]
Nneka, German-Nigerian soul-singer (and snubber of Tarik at last year's SXSW) makes her debut on Sound Travels with the Igbo-inflected "Still I Rise." Nneka's new album however, is an easy listen with a number of amazing cuts, most of which are sung in English. I guarantee this isn't the last time(this week) that you'll hear from her... 
Nneka "Still I Rise" Soul Is Heavy
[audio=3]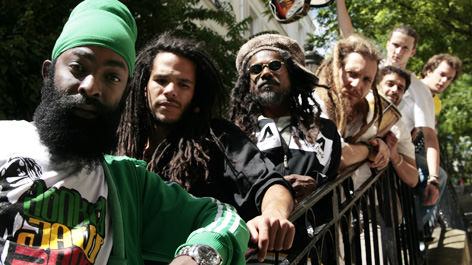 Last in the set was a bit of reggae from Pupajim and his band Stand High Patrol. Though all of the songs on the album are delivered in English, the band is actually out of Rennes, Brest and Paris in France. French reggae is really quite good, but rarely sung in English. Despite this oddity, their sound is a fresh set of modern roots reggae leaning heavily on the early 80's digital reggae sound. Far from sounding like an imitation or even a throwback, these cats craft an original sound that simply reminds of another era while doing the current one a favor by bringing a sound that should have never declined, back to life. Synthesizers never sounded better than they do on this album that's full of one-drop gems.
Stand High Patrol "Commando" Midnight Walkers
[audio=4]