1047
782
Some of my favorite music is music I can't even play on the radio; dense, heady, no hook havin', seven minute long songs unsafe for sheltered children or the apolitical. But if you wanna know what I'm digging, dig this…
Chimurenga Rennaissance – riZe vadZimu riZe
Dense, heady hip hop from Shabazz Palaces collaborator Tendai "Baba" Maraire. An album that I didn't like initially, but am glad I came back to. Much like Shabazz Palaces, Chimurenga Rennaissance is not a one listen proposition, but after a few it'll get to you. The arrangements are dense and the lyrics are smart enough that you really want to listen as much as zone to the beat. Maraire's Zimbabwean roots shine through in intriguing ways. His father Dumisani Maraire is credited for introducing Zimbabwean music to Seattle, and Tendai introduces it to hip hop here.
As hip hop, this is classic message rap– crooked cops, materialism, black culture, schisms of isms and bad romances to name a few of the themes that run through. I love hip hop like this and riZe vadZimu riZe delivers. riZe vadZimu riZe also features Palaceer Lazaro, Mall Saint, M1 of Dead Prez, and THEESatisfaction. Discover it.
Hot16 – 1983 EP
For me, funk is one of my most basic flavors, and Portland's Hot16 is a producer that's putting 80's funk and R&B back in the mix. On the aptly titled 1983 EP, Hot16 enlists an array of vocalists and MC's like MC Melodee, Vursatyl (from Lifesavas), Reva DeVito, Swan Coltrane & Thaddeus David (from Seattle's Moor Gang), and Ronnie & EPP (from TxE). If you're a fan of funk, don't sleep on this one!
Chronixx – Dread & Terrible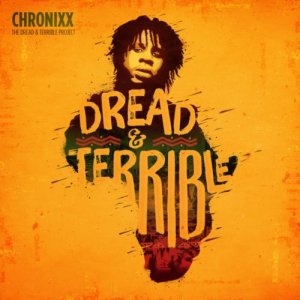 Chronixx. Definitely a name to watch on the reggae scene. And at the tender age of 21, it's all the more impressive to hear this cat come through with dope single after dope single. But on Dread & Terrible, Chronixx has done what few reggae artists have been able to do, pull of an album of thorough quality. The album dropped in early April and has been in steady rotation at my gigs and at the crib. Chronixx is bringing the rootsy side of dancehall reggae back and has a sound the legendary Chris Blackwell and Diplo have hailed as the next big thing for Jamican music. Make sure you check this album out because they are right!
Mobonix – Machine Man
I suppose that it makes sense that the latest rap concept album is coming from a cat who is also MF Doom's right hand. And listening to the debut album from Atlanta's Mobonix, Machine Man it's clear the two are on a similar philosophical/artistic plane. His bio is one part reality and one part mythology. In character, Mobonix reads like a audio comic book and is classic character rap in the same vein as MF Doom or even Kool Keith. On the real side, he was a promoter/activist whose rap game took over. Each song on Machine Man is an episode that will take you further into this intriguing world. I'm still digesting this one and I like what I hear so far…
88Nine Radio Milwaukee