640
427
#1
A Gloss Weekend!
Milwaukee's Gloss Records embraces the scene with a pretty plural passion, dropping releases ranging the full course of the community. From rap to rock, singer-songwriter to dance pop; when they see talent in the town, it seems they just wanna sign it. And it's a healthy approach that has led to lots of love and even more releases. All of which will be celebrated this weekend in a well-timed Bayview-to-Riverwest showcase that hits the city right in its hip pocket this weekend.
As the Label turns the page on its first year, it seems the baby is not crawling, but running and funning its way through Memorial Day weekend with two nights of talent at Cactus Club in Bay View and Mad Planet in Riverwest. Friday night features a balanced line at Cactus Club featuring GGOOLLDD, Rio Turbo, (ORB), Soup Moat, Hello Death and D'Amato, with a  DJ set by DASHCAM. Meanwhile, Saturday's lineup at Mad Planet is equally interesting with Soul Low, Lorde Fredd33, NO/NO, Piles, Iron Pizza and Marielle Allschwang layered through a DJ set by (Sound Travels Live regular) Max Holiday. Don't forget the afterparty at High Dive MKE on Sunday 
Friday at 8pm @ Cactus Club 2496 S. Wentworth Ave. Bay View
Saturday at 8pm @ Mad Planet 533 E. Center St. Riverwest
88Nine Radio Milwaukee
It's my opinion that you should have your own opinion, these cues may be clues...

We made it.

Through the cold mechanics of winter we finally find ourselves on the verge of Milwaukee's best look, summertime. Memorial Day has always served as a sort of gateway to the alternate reality some call summer; I call it a revelation. Like a desert chapped by heat, sunny days in Southeast Wisconsin are like rain on sand, causing beauty beyond reckoning and a bloom that consumes its function, fitting for a season we see far too little of. So whatchya gonna do?

#2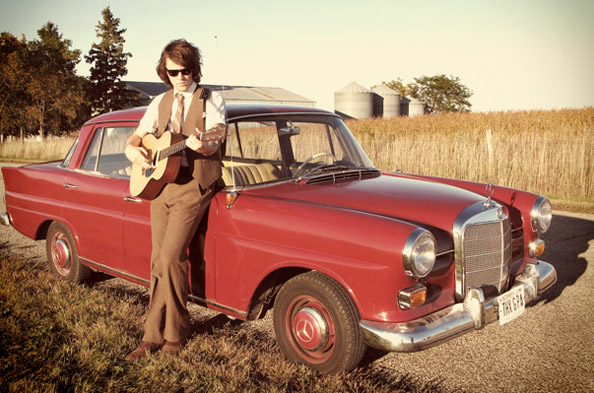 Trapper Schoepp & the Shades + Drugs Dargons
Trapper Schoepp & The Shades have been making an impression on 88Nine's airspace for a bitty bit now; lately, it's been the rocker "Settlin' or Sleepin' Around" from his brand new, Nashville-recorded Rangers and Valentines (which is good btw). A narrative adventure exploring young love with something approaching deeper wisdom and/or awareness is how I've heard it described and I tend to agree, but what really caught me about Trapper's progression is how good he (and the band) have gotten. Not that they ever were bad, but one listen to the new material will confirm they're on the money and worth a penny to see them play at Club Garibaldi's this Friday.
Friday at 9pm @ Club Garibaldi's
#3
With influences ranging from Bill Withers to Elliott Smith and Weezer to Rage Against the Machine, 26-year-old songwriter Margaret Glaspy focuses her talents into fiercely raw, guitar-driven pop songs that would've made Joni Mitchell proud. Though it's taken her some time getting to the main stage on her own deal, she's honed herself backing artists like Rachael Yamagata, bluegrass legends like Ricky Skaggs and folk icons like Del McCoury. And now she's in town in support of Milk Carton Kids.
Though Milk Carton Kids are the main attraction, I feel the show is an excellent double-bill and though I set this up on Glaspy, MCK are taking notions of what folk music is and can be to new levels. The Grammy-nominated harmony duo is pushing borders and redefining the parameters of folk music in ways that incorporate other sounds. Seeing them live is an understated treat for a chill Saturday evening.
Saturday at 7pm @ The Pabst Theater 144 E. Wells St Downtown
#4
Webster X + Lord Fredd33 + Mic Kellogg
It's hard to believe it's been almost a year since one of Milwaukee's better musicians, Webster X has had a show in his hometown. A year of travelling, performing and generally just taking it to the next level has served as what I can only imagine to the right kind of seasoning and that there, is a great reason to go see him on his Lost Ones Tour at the Miramar Theater this Saturday. At the very least it should be a packed crowd for a show guaranteed to be high energy. WebsterX (and everybody else on the bill) has great stage energy and presence, crowds at these shows tend to pretty hype, so don't go if you're gonna need to sit down.
Saturday at 9pm @ Miramar Theater 2844 N Oakland Ave, East Side
#5
Marcus Doucette | 88Nine Radio Milwaukee
Sound Travels Yo!
Every once and a while (read, every time there's a three-day weekend,) I like to remind all interested parties that one of Milwaukee's longer-running DJ tenures is my very own Sound Travels Live edition at the Nomad World Pub on Brady Street. I think this is year five, and though it's not the biggest room to DJ, it is always a good, open minded crowd that tends to come to these shows and the dance floor can get pretty effin fun.
That said, this Memorial Day I've enlisted the tropical talents of Chicago DJ duo Soulphonetics to help take this weekly party deep into the night. This weekend, we'll be playing tropical sounds from all over the world and these guys can certainly rock global grooves as well as I can so step out and have some fun. I know you don't have to work on Monday…
Sunday at 9pm @ Nomad World Pub 1401 E Brady St. East Side