Amplifier is back to connect Milwaukee artists with national mentors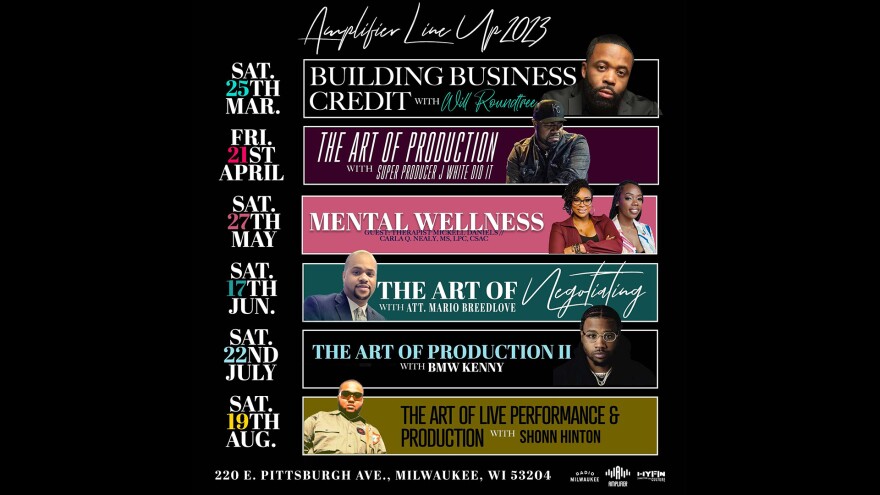 Radio Milwaukee's Amplifier program featuring experts from across the music industry has revealed its 2023 public workshop lineup, which kicks off with financial strategist Will Roundtree on Saturday, March 25.
"We are extremely excited to bring the expertise of national mentors to all of Milwaukee's talented artists," Amplifier Program Director Chad Roper said. "Building on the momentum from last year, we are proud to share the full lineup of experts we are bringing in to share with our city this year."
The 2023 Amplifier season will kick off with Roudtree's session focused on building business credit. The remaining Amplifier workshops will feature the following guests and topics:
Friday, April 21 — The Art of Production I with J White Did It
Saturday, May 27 — Mental Wellness with therapist Mickell Daniels and Carla Q. Nealy, MS, LPC, CSAC
Saturday, June 17 — The Art of Negotiating with Mario Breedlove
Saturday, July 22 — The Art of Production II with BMW Kenny
Saturday, Aug. 19 — The Art of Live Performance & Production with Shonn Hinton
Saturday, Sept. 23 — Sound Judgment
Saturday, Oct. 21 — Amplifier Class of 2021, Community Meet & Greet
All workshops are open to the public and held at Radio Milwaukee's Walker's Point studios, 220 E. Pittsburgh Ave. Artists can register to participate on the Amplifier website. All workshops will also be streamed live on Facebook via Radio Milwaukee and Amplifier.
In addition to the workshops, Amplifier has produced a six-episode podcast of its 2022 content. Almost all public sessions from last season — including Rico Love, Vincent Searcy and more — are now available via NPR and on all major podcast streaming platforms.
To learn more about Amplifier, follow the program on Facebook and Instagram.