From Megan Thee Stallion's big night to Bad Bunny's loud hat: Our 2021 Grammy reactions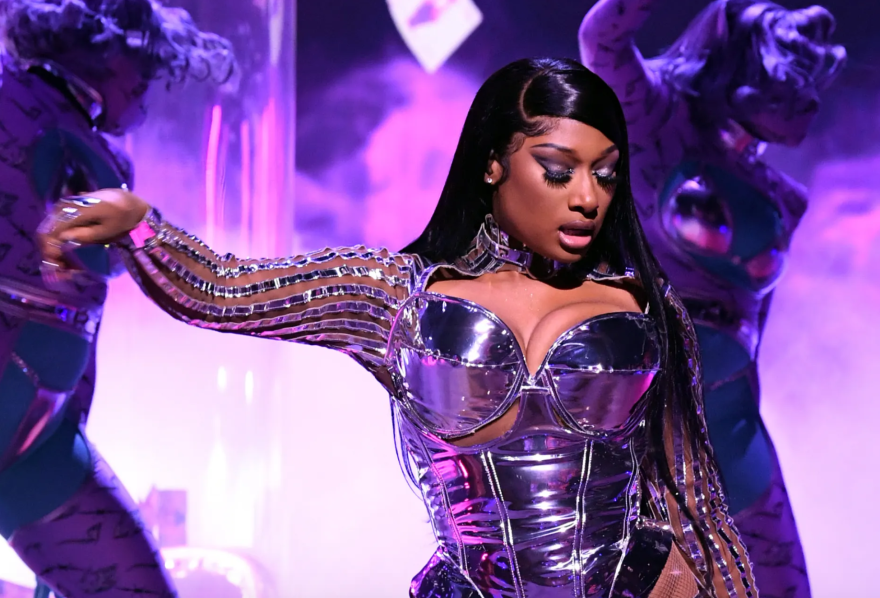 If you missed last night's Grammy Awards, you missed a lot. Luckily Radio Milwaukee's Tarik Moody, Justin Barney and Kenny Perez are here to recap it for you. The three hopped on Slack this morning to share their takeaways from music's biggest night. (You can find the complete list of Grammy winners here).
Justin: Alright y'all. What did you think of the Grammy's last night?
DJ Kenny Perez: I thought the format was great. Trevor Noah is a trip!
Tarik: It was surprising to see all the Black nominees for the biggest category and it went to Billie Eilish even though Megan had a bigger year.
Justin: Yeah, the Grammy's kind of have a history with that
Remember when it was like Kendrick, Jay-Z and all Black artists up for Rap Album of the Year and Macklemore won?
Grammy's did get better in the nomination, but still have a hard time giving a major award to a Black artist who deserves it more. Billie Eilish seemed to recognize it though
Tarik: Yep. I noticed that Grammy board director talked about them needing to do more work.
DJ Kenny Perez: They have to do more work.
Tarik: Only 24% of this year's top Grammy nominees were Black, according to the study. And even that number is misleading, because it includes Black artists featured on White performers' songs.
Justin: I understand why they don't give it to chart toppers though. They have the Billboard awards for that. But yes, a way to go for rewarding Black artists making great art
They had good representation in the performances though and I felt like, given the circumstances, the performances were better than I thought they were going to be
Tarik: I also like the performance by the woman country singers.
They gave some love to Rita Houston from WFUV too
Justin: OMG I texted like five people. It was great to see her memorialized
Tarik: I agree the performances were well-rounded.
Justin: I felt like each performance was like a Tiny Desk with more production
Like an average-sized-desk show
Tarik: love that they recognized venues during the ceremony, like Apollo Theater and Hotel Cafe
I was wondering how many of the artists got vaccinated because they were hugging like crazy
Justin: At first, when they did the first three performances and they panned to the five other people in the room for reaction shots every couple seconds I thought it was going to be cringy
Tarik: I really want to hang out with Megan and talk anime with her.
Justin: think we all want that, Tarik
DJ Kenny Perez: Megan was so humble during her speech with Beyonce by her side.
Justin: That was super fun
Houston represent
Tarik: I love that they were both from Houston
DJ Kenny Perez: Cardi was brutal.
Justin: What? I thought Cardi was great
The heel as the pole?! That was great! Felt like we stepped into the Matrix at the beginning of her set
DJ Kenny Perez: Lip sync or don't. Megan was present in her mic. The costumes were awesome I will give her that.
Justin: One thing I think we can agree on was that it was too long
There was NO REASON for it to run over time this year
Tarik: It is all about ego
DJ Kenny Perez: Clearly about the stars that evening
Justin: They could have cut 25% of it, EASY
Milwaukee showed up though. CameOne got his Grammy for producing on Kanye's "Jesus Is King," Best Contemporary Christian album
DJ Kenny Perez: I was so happy for him, Kaytranda, Kali Uchis, Bad Bunny!
Tarik: I kind of feel like there will be new awards shows in the future from places like TikTok that will be more popular.
Justin: Also Snarky Puppy won for Best Contemporary Instrumental Album
Tarik: Thundercat won, too
Justin: What do y'all think of Taylor winning Album of the Year?
Tarik: I don't know. I feel like it was low hanging fruit. Ohh look Taylor is working with Bon Iver. Let's give to her.
Justin: That's how I felt on that too
Tarik: I feel some of the judges really don't know music. They know image
DJ Kenny Perez: Taylor is talented, Bon Iver was a great collab and a smart move.
Justin: Overall, I think it really was Megan Thee Stallion's night though
She's the story coming out
DJ Kenny Perez: Even without record of the year I agree.
Justin: She won some that she deserved. She lost some that she deserved. She had a killer performance. She was great on the mic. She won.
Kenny, what was going on with that Bad Bunny hat though?
And the sunflower
DJ Kenny Perez: Bad Bunny will forever be the wildcard despite the stream #'s
Justin: Like, I'm all here for a bold fashion statement, but those were a little loud
DJ Kenny Perez: He is a free spirit and I think he plays it up well. Reggaeton is hyper masculine and the sound needs someone to step away from that.
Justin: Also, I love Black Pumas. Truly. But I don't understand why so many albums got passed up so that a deluxe version of their album from two years ago could get nominated
It's just strange
They did a great produced piece and I get the pull of the story and the goodwill they garner. But still
DJ Kenny Perez: Being on stage at the concert last year at the Riverside gave me a whole different respect for that band. Everyone is sooooo cool!
The Grammys made me more nostalgic for live concerts.
Justin: For some reason it didn't for me cause those don't feel like real concerts. I don't long for a Fiserv Forum show, I miss a Cactus Club show
We will get there though