Northwestern Mutual unveils $500 million project for downtown Milwaukee
Less than six years after completing a project that reinvigorated the Milwaukee skyline, Northwestern Mutual will do it again by giving its existing Tower and Commons building a similarly styled wingman on the other side of Mason Street.
The company's North Office Building that currently sits at 818 E. Mason St. opened in 1990 and, while still functional, pales in comparison to its companion across the way. So rather than a complete teardown, Northwestern Mutual announced plans Thursday for extensive interior and exterior renovations as part of a $500 million project that also includes:

New structures connecting the North Office Building to the Tower and Commons
Enhanced employee amenities and events space
A pedestrian plaza at the intersection of Mason and Cass streets
On that last point, the plans call for shutting down North Cass Street to vehicle traffic between East Mason and East Well streets.
"Our decision to build the Tower and Commons downtown made a huge statement about metro Milwaukee's attractiveness as a place to live and work, and created job opportunities for our broader community that continue to have a ripple effect to this day," Northwestern Mutual Chairman, President and CEO John Schlifske said in a release. "We believe in Milwaukee — which has been our hometown for nearly all of our 165-plus year history — which is why we were up to the challenge to ensure we met and exceeded the bold hiring goals advanced with the city."
In fact, the company boasts the largest presence in downtown Milwaukee, with just shy of 4,500 employees. The new project will increase that number significantly as Northwestern Mutual relocates its workforce currently located in Franklin. The company estimates almost 2,000 additional employees will make the move downtown by 2030.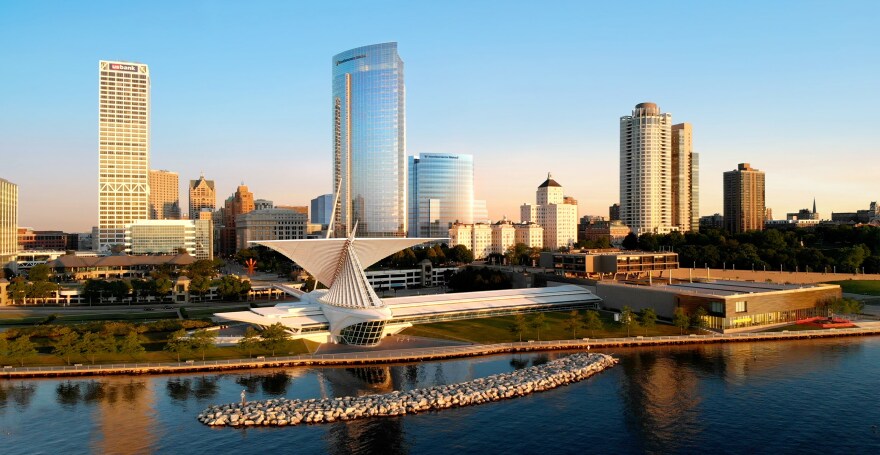 If Northwestern Mutual secures the necessary approvals from the city, construction could begin this year and completion of the project as early as 2027. Those approvals seem likely, given comments from Milwaukee Common Council President José Pérez and Mayor Cavalier Johnson included in the release.
"To complement Northwestern Mutual's investment, the city is advancing a financing tool that adds value without imposing a burden on city taxpayers," Mayor Johnson said in the release. "Over the long run, the city's participation adds tax base and economic strength to Milwaukee."
The mayor referred to a tax increment financing (TIF) plan that will see Northwestern Mutual foot the bill for the project and the city return a portion of the company's property taxes. According to the release, that return only happens after the new building "is producing property tax revenue beyond that generated by the current North Office Building" and the company meets a series of requirements:

Utilizing SBEs for at least 25 percent of construction and supply costs and at least 18 percent of professional services costs on the construction of the project
Utilizing unemployed and underemployed residents, pursuant to the City's RPP, for no less than 40 percent of total onsite construction "worker hours" expended on construction of the project
Adhering to the requirements contemplated by the City's Community-Oriented, Responsible and Equitable (CORE) Development Zone Resolution, which applies to certain workers and requires a starting $15 per hour minimum wage with built-in escalators
Committing to have no less than 5,375 employees assigned to its downtown campus upon completion of the project and no less than 5,750 employees assigned to its downtown campus by January 1, 2030 and for the duration of the term of the TID [tax incremental district]
Continued and enhanced investment in Milwaukee communities through the Northwestern Mutual Foundation.
Assuming the company meets those requirements, it will receive 75% of the tax increment and the city 25%, up to a value of $30 million in present-day dollars.
"We were proud to partner with city officials to help transform Milwaukee's skyline and provide an unparalleled experience to thousands of Northwestern Mutual employees with our Tower and Commons project," Schlifske said in the release. "With this exciting new endeavor, we will extend that same experience to all our employees by aligning our North Office Building to the Tower and Commons experience."